Palestine is rich in both history and culture. It is situated at the crossroads between Africa, Europe and the Middle East. Palestine has a unique blend of languages, cultures and religious beliefs. It is also home to some of the most significant religious sites in the world.
According to the Observatory of Economic Complexity (OEC):
Palestine is the 185th largest export economy in the world.

In 2017, Palestine exported $94.8 million worth of goods and services and imported $935 million. It has a negative trade balance of $840 million.

GDP per capita is $4.89k.

The top Palestinian exports are tropical fruits, scrap iron, packaged medicaments, building stone and pure olive oil.

The top imports are cars, cement, baked goods, chocolate and frozen bovine meat.

Top export destinations are: Jordan, Belarus, Kuwait, the United States and Turkey.

Top import origins are: Jordan, Egypt, South Korea, Germany and Turkey.
UK businesses operating in the Palestinian Territories include but are not limited to:
Strategic Sectors for Investment
Palestine has comparative advantages in a wide array of investment sectors. Discover them below.
When considering Palestinian produce as a potential competitive opportunity, know this:
Technical and chemical aids to plant and mixed holdings
Out of 1,207,061 dunums of agricultural land, 1,029,280 dunums are cultivated and devoted to growing fresh fruits, vegetables and herbs.

91% of cultivated land is found in the West Bank, with large cultivation areas in Jenin, Hebron and Nablus.

Agricultural enterprises use a variety of technical and chemical aids to production. These figures can be improved in accordance with market requirements and restrictions.

Processing and packaging are controlled by a few large operators and large investments have been directed into capacity building and branding.

Climate diversity allows for the growth of a variety of agricultural products year-round.
How to register a company in Palestine
Below, please find the stipulations of the Ministry of National Economy, operating under the Jordanian Law of Companies No.12 of 1964, for registering a company in Palestine:
If the foreign partners are resident within territories under the jurisdiction of the Palestinian Authority,

work permits

must be obtained from the Palestinian Authority.

All company documents issued in the company's country of origin must be

submitted

to the Ministry.

These will be studied by the Companies' Controller who is responsible for granting approval.

Register

the company name, which must be checked by the Ministry to ensure that it is not taken.

For

registration fees, please contact the mission.
Note:
Any foreign company planning to operate within Palestine must register as a foreign company, and submitting an application for registration within a month of its establishment in Palestine.
This differs in the Gaza Strip, which is operating under the Companies Law No.18 of 1929 and the Ordinary Companies' Law No.19 of 1930.
For more information, please contact the mission.

Obtain an investment registration certificate
The 1998 Investment Promotion Law and its Amendments are necessary to support the development of industrial free zones, coupled with providing a special incentive for investors including certain income and customs tax exemptions.

The Palestinian Authority has issued Income Tax Law (No.17 of 2004) which aims to promote investment in the Palestinian Territories. This has:
Unified the legal framework in both parts of Palestine

Increased the tax base by lowering exemptions.

Unified the income tax rate on all commercial establishments.
A 15% tax is withheld at source from dividends distributed in Palestine to shareholders of a foreign company.

There are no taxes due on dividends distributed to shareholders of Palestinian companies regardless of where they live or their nationality, and regardless of whether they are an individual or a company.

An automatic deduction at the source of 25% is withheld from companies, unless companies or individuals obtain a Deduction at the Source Certificate, which grants a reduced rate that ranges between zero and five percent. Applications for these certificates are available from the district tax offices.
A new income tax law was passed in 2001, which was followed by presidential decree No. 8 in 2011.

This resulted in a change from a tax rate bracket of 5-20% to 5-15%.

If the annual income of the individual is lower than the low-income tax-exempt status, which is altered annually, the taxpayer does not have to file an annual tax report.

The tax rates payable by Palestinian residents as of 2011 (calculated before applicable tax credits are applied).
| Annual Income, in NIS | Tax Rate |
| --- | --- |
| 1-75,000 | 5% |
| 75,001-150,000 | 10% |
| 150,001 + | 15% |
Value-Added Tax (VAT): Consumption-based tax imposed on all local goods and services at a rate of 16%.
Very small companies with annual sales under $12,000:

Exempt from VAT payments.
Must declare sales on a self-assessed report at the end of each tax year.

Small companies with annual sales under $50,000:

Pay 16% VAT.
Do not have the right to issue a VAT invoice.

Large companies with annual sales above $50,000:

Pay 16% VAT.
Can issue a VAT invoice.

Non-profit organizations:
We aim to support British efforts within the Department for International Trade alongside the Palestine Liberation Organisation (PLO) to ensure the success of the United Kingdom's trade relationship with the Palestinian Authority of the West Bank and the Gaza Strip. Our mission is to facilitate this effort.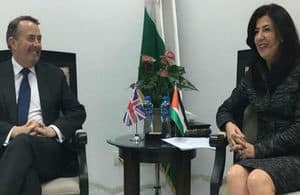 Her Excellency, Abeer Odeh, Minister of National Economy and the International Trade Secretary.
In February 2019 the UK and the Palestinian Authority signed a trade continuity agreement.

The Palestinian Authority is the UK's 186th largest trading partner, with £17 million total trade in goods and services between them in 2017.

Between 2002-2017, EU goods exported to Palestine increased by almost 700%. Goods imported into the EU from Palestine increased by 105%.
| | Trade in goods | Trade in services | Total trade |
| --- | --- | --- | --- |
| UK exports to the Palestinian Authority | £3M | £12M | £15M |
| UK imports from the Palestinian Authority | 0 | £2M | £2M |
| Total trade | £3M | £14M | £17M |
To support the ambitions of the Palestinian Authority we aim to promote investment in Palestine by:
Providing guarantees to all investors and investments operating in Palestine.

Granting incentives to investors.

Providing an appropriate investment environment.
Book a Business Appointment
Book an appointment with our Trade and Investment Department to discuss your needs