Israeli PM Benjamin Netanyahu, leader of the right-wing Likud party, on 15 September announced his intention to annex the Jordan Valley and the northern Dead Sea, if elected again. Netanyahu said he had received a green light from the US administration of Donald Trump.
PM Netanyahu stated in a televised speech:
'There is one place where we can apply Israeli sovereignty immediately after the elections…today I announce my intention to apply with the formation of the next government Israeli sovereignty over the Jordan Valley and northern Dead Sea.'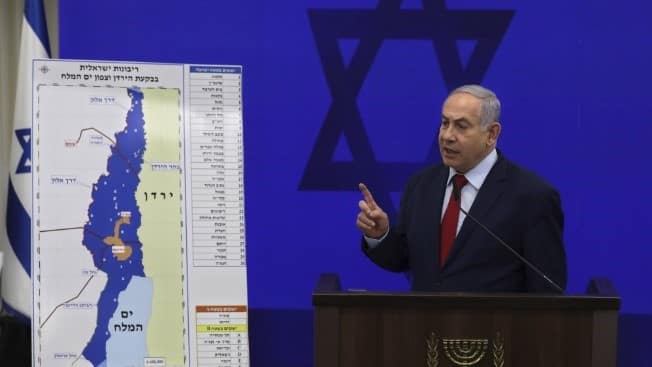 The proposal was met with condemnation from Palestinians, Saudi Arabia, Jordan, Turkey and the United Nations. In Israel, the move was widely seen as an attempt to secure votes.
Dr Saeb Erekat, the Secretary General of the PLO, condemned Netanyahu's statement and reminded the Israeli premier that "annexation under international law is a war crime."
H.E. Dr. Husam Zomlot, the Palestinian ambassador to the UK, told the BBC's Today programme that Netanyahu's statement was a gambit for more votes and a "desperate last ditch attempt … to dodge criminal charges."
One hundred and eight British legislators demanded that British PM Boris Johnson appose any Israeli attempt to annex occupied Palestinian land, arguing that annexation would lead to a deepening of the conflict and was morally indefensible.
A spokesman for UN Secretary-General Antonio Guterres also condemned Netanyahu's statement and said annexation would be considered a violation of international law and greatly undermine prospects for a two-state solution. T
The international community is obligated to condemn and resist any direct threats to Palestinian sovereignty, self-determination, and statehood, or any other move — such as the annexation of occupied territory — that violate the Fourth Geneva Convention. This obligation is repeated in several United Nations Security Council (UNSC) Resolutions, including, 'inter alia, 242 (1967), 338 (1973), 465 (1980), 476 (1980), 478 (1980) and 2334 (2016), whereby the Council underscored that "it will not recognise any changes to the 4 June 1967 lines, including with regards to Jerusalem, other than those agreed by the parties through negotiations."